Erfunden zum Start des mittlerweile eingestellten Comic-Channels auf der Website des ORF war der wöchentliche "Fred"-Strip die einzige Serie, die von Anfang bis Ende regelmäßig mit dabei war. Fünf Jahre und 275 Folgen lang konnten die Leser die Ereignisse rund um eine Gruppe urbaner, sexuell frustrierter Singles online miterleben.

Aber auch nach Ende des ORF-Channels wurde "Fred" von seinen Autoren ohne Unterbrechung weitergeführt (schließlich hatte die Hauptfigur Fred gerade seine erste wenn auch chaotisch-katastrophale Beziehung seit Beginn des Strips), und zwar wöchentlich auf der prominenten Austro-Comic-Website www.comic.at – und parallel dazu auf seiner eigenen Homepage (www.totalfred.at bzw. www.totalfred.de)
Über 300 Strips sind inzwischen erschienen…
Fred, die Hauptfigur des Strips, ist das Paradebeispiel des 30-something-Großstadtsingles, der nichts unversucht lässt, um sich dem nicht enden wollenden Kampf gegen Beziehungskatastrophen, Neurosen, sexuelle Frustrationen und das Älter werden zu stellen. Wenn er zusammen mit seinen Freunden Oliver, Marlene, deren Sohn Tom, Carola, Kurt dem Transvestiten und natürlich Toni-dem-Arsch den Widrigkeiten des Alltags trotzt, wähnt man sich zusammen mit Woody Allen in einer Sex and the City-WG.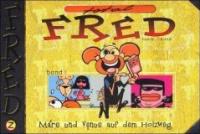 Aber auch wenn´s mit dem Sex, oder dem Alltagsstress mal überhaupt nicht klappt – es bleiben ja noch die gute, alte Gummipuppe Susi oder Freds Superhelden-Alter-Ego "Couch-Potato-Man", um den Tag zu retten!
Inhaltlich ist sich Fred in all den Jahren treu geblieben – optisch hat er sich merklich verändert – wie man gut im Archiv der Fred-Strips nachvollziehen kann.
Hier geht's zu: FRED – Das Buch (Amazon)
Es versammelt üppig gelayoutet die ersten 150 Strips der Serie, erschienen bei Zwerchfell.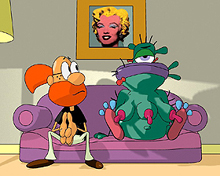 … und hier geht's zum FRED Zeichentrickfilm